Robert Redford first discovered Utah's Provo Canyon as a college student in the 1950s, when a family of Scottish Mormons ran both a mom-and-pop ski hill and a Samoan-themed hamburger counter there. It wasn't the Polynesian burger shack that captured Redford's attention, it was the canyon with its majestic peaks and fast-running waters that deeply inspired him. Years later, after becoming a household name in films such as Butch Cassidy and the Sundance Kid, he returned, bought 6,000 acres from the Scots, and named his land Sundance after the introspective outlaw he played in the movie.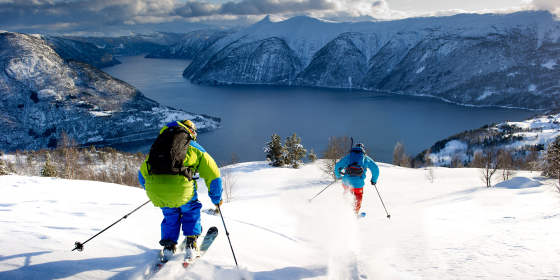 But Redford didn't buy the canyon to make a buck – he bought it to make a difference. He founded the Sundance Institute, an artists' colony where writers, choreographers, and directors could create plays, dances, and films far from the corporate pressures of Hollywood and Broadway. Although Redford realized he'd need to sell lift tickets to fund the institute, as a committed environmentalist, he didn't want to spoil the surrounding wilderness. With a team of like-minded designers, the star was able to build a resort that could turn a profit without compromising his principles.
At first glance, Sundance looks as if it might still be run by a family of thrifty Scots. Though there are two restaurants, a store, an auditorium, a stage, a conference facility, scores of guest cottages, and ski lifts, it's all so simple and organically integrated into the surrounding landscape that the resort seems somewhat camouflaged. With its rough-hewn, pine-constructed cottages and facilities decorated with authentic Native American artifacts, Sundance celebrates nature. True to Redford's vision, the only things commanding about Sundance are the granite peak of 12,000-foot Mount Timpanogos and the surrounding mountains.
Although the well-groomed, gradual vertical drop of the resort's ski runs won't necessarily make you forget the chutes at Snowbird or the steps at Park City, the overall experience of skiing here may be more memorable. Because Sundance allows only 1,200 skiers a day, lift lines are nonexistent, and runs are never crowded. Add to that the quiet, powdery slopes of Bishop's Bowl and the groomed silkiness of cruisers such as Bearclaw, and suddenly an aura of serenity and elegance is restored to the sport of skiing.
Not surprisingly, this elegance spills over into Sundances apres ski alternatives. Instead of happy hour, try a dogsled ride that takes you skimming along tree-lined trails in the chill of a mountain evening. You'll discover that dogsleds are to horse-drawn sleighs what kayaks are to houseboats – namely, a lot more fun. If you're feeling introspective, go for a late afternoon cross-country trek on the 14 kilometers of groomed trails in Elk Meadows. As you glide along, watching the alpenglow bounce off Timpanogos, you'll see why Redford believes artists can find motivation here.
Evidence that Sundance embraces art rather than hype is everywhere. For instance, unlike restaurants at celebrity-infested resorts that plaster their walls with glossy 8 X 10's of movie stars, Sundance's Grill Room is decorated with photos of the Institute's up-and-coming screenwriters and playwrights. Of course, there are plenty of artifacts from Redford's acting career, and it's not unusual to see him carving down the slopes, but for the most part, Redford shows off his vision – not himself – at Sundance.
Take, for example, dining and shopping. Creative but uncontrived meals like smoked salmon Navajo tacos with marinated snowcap beans or Hopi vegetable stew with blue corn dumplings are enriched by the surrounding Redford collection of western paintings and movie memorabilia at the Tree Room restaurant. Next door you'll find a wonderfully eclectic General Store where you can buy everything from lip balm to rare handmade Uintah jewelry and blankets. Each January, the General Store also sells tickets to films playing during Sundance Institute's annual Independent Film Festival, where films such as sex, lies and videotape and Reservoir Dogs were launched. Because most of these seats are presold, being shut out of a screening is not uncommon. But when you have alternatives like snowshoeing under a full moon, reading a book by a crackling fire in your cottage, or even idly musing where the Samoan burger joint once stood, missing a movie isn't half bad.